I read a tremendous amount of five-star fiction this year, and it was a year notable for the number of authors I read for the first time. Without further ado, here are the 10* best books of fiction I read in 2015 (*with a bit of fudging).
[Insert sturdy expletive!] Maybe Cheever is all I have ever wanted in a story. I do not think I will ever be able to get over this. The pitch-perfect prose, wrapped around a bunch of sad, rich, white New Englanders, left me breathless. Yeah, it's a narrow subject matter, on the whole, but I am incapable of denying his clear genius. Six stars.
2. The Neapolitan Novels, Elena Ferrante
Cheating, but I blazed through all four of the Neapolitan Novels (My Brilliant Friend, The Story of a New Name, Those Who Leave and Those Who Stay, and The Story of the Lost Child) this year, and I feel like they can all count as one formidable work. As I have said to many friends, I am at a loss for words when I try to explain the draw of Elena Ferrante's power and brilliance. I can't say what she does that is so affecting, but these novels are not to be missed. They appeal to everyone. (Yes, even men. If you can get over yourself/the intentionally bad cover art, you will not regret it.)
3. My Struggle (Books 1 and 2), Karl Ove Knausgaard
Another cheat, but I was also seduced by Karl Ove Knausgaard and his sprawling Proustian novel My Struggle this year. It lives up to all the hype. I read books one through three this year, but the first and second were the ones that genuinely moved me.
As a rule, I am not someone who cries when reading, but I sobbed (I think actually sobbed) a few times while reading this novel. Good grief, Hanya Yanagihara; have mercy on us. This is an extremely dark and extremely moving novel. The characters are rich, complex, and heartbreaking. A Little Life is not for the faint of heart, but it is for all who have suffered, for all who have received (and yet wanted to reject) unconditional love. It's a beautiful portrait of the love and grace that broken people can to extend to each other despite the horrors of life. Whew. I read all 720 pages in about two days, and upon finishing, I felt like I needed to recover from the death of friends. What a tremendous literary accomplishment.
Where has this book been all my life? Never have I read a novel so beautifully, darkly comic and moving, all at once. Bjartur, a sheep farmer in Iceland, has determined that he will be an independent man, and rely on no one for anything. His singleness of purpose and pride bear out the action of this gorgeously written novel, as his desire for independence drives his family and his farm into despair, starvation, heartbreak, and death. Sounds fun, right? And somehow it is.
The humor is especially surprising. There are these moments of complete absurdity (everyone is talking about worms in the dogs and livestock; ghosts on the heath; the high-minded poetess who pretends to be a friend to the common farmer; trying to tell the neighbors that he found his wife dead, frozen in a pool of blood, after having given birth to a daughter, who is found barely alive under the dog, who is keeping her warm, and instead tells them stories about his sheep and asks them about the weather), and extremely dark humor, and then there's this lyrical vein that runs through the whole thing. I can't even begin to say what the quality is, but it's beautiful. (It also was the perfect literary prelude to our visit to Iceland this past summer.)
Upon my third reading of this novel, I am happy to say that the pleasures of revisiting Woolf are manifold. Years later, I still feel like I never left this novel. I read it twice in 2009 in preparation for my undergraduate thesis, and then, in 2015, I was happily astonished that it felt so fresh and memorable to me. Rereading Between the Acts felt like visiting an old friend in her garden. My undergrad marginalia in my copy was often embarrassing to reread, but I think these copious, juvenile annotations served to cement a strong recall of the themes and overall emotions of this novel. Mainly, I've come away with this impression: Snob as she was, Woolf noticed everybody. And here we notice ourselves in these characters, as at the end of the play, when the (literal) mirrors are held up to the audience, casting a chilling democracy over the crowd. "So that was her little game! To show us up, as we are, here and how."
On a summer evening in the English countryside, a family and their neighborhood friends gather to put on an annual pageant that spans the history of noble Britain. As to be expected with Woolf, a multiplicity of psychological distress simmers under the social surface. Isa is the quiet center of this novel, and we live in her sad, observant mind. As with most Woolf heroines, she is a secretive poet and an unhappy wife and mother, imprisoned by the luxuries of her domestic situation. And yet she is still sympathetic and very human.
This is not her strongest novel, and it's not the one I'd recommend to newcomers, but it has all the trappings of Woolf's timeless appeal as a novelist: the incisive characterization, the lush prose, the beautiful meditations, the moments of playfulness.
If 2014 was the Year of Discovering and Falling in Love with Lydia Davis, I'm going to declare 2015 the Year of Discovering and Falling in Love with Penelope Fitzgerald. This is only the second novel I've read by her, but I am perpetually enchanted by her effortless style, wit, and perfect characterizations. (She also writes children very well, in a very clever, realistic manner. "The Bernhard," the protagonist's little brother, was a consistently hilarious character to me. Everything about him is delightful.) I am eagerly looking forward to reading everything else from her (and remain perplexed that she seems to get consistently low numbers of Goodreads stars).
In the lush and dramatic time of Goethe, we meet a young Friedrich "Fritz" von Hardenberg, later known as the German Romantic philosopher/poet Novalis. In the middle of his university education, he meets and falls desperately in love with a 12-year-old girl, Sophie von Kühn, despite the fact that she seems to have not much to recommend herself (except, according to him, being the spitting image of a woodcut of the painter Raphael). His family and friends are appalled. The young genius is so taken in by this very normal kid, who is 10 years his junior, and no one can understand the deep attraction he has for her. Fitzgerald is hilarious to me, throughout her depiction of the sincere and yet puzzling romance. A lovely little novel. It is funny and light and strangely, whimsically profound.
Brilliant and weird and funny and meticulously executed. This is such a delightful collection. Not as beloved, in my mind, as The Tenth of December, but here we have all of the characteristic blend of quasi-sci-fi American-life criticism, poignant family dramas shown from odd angles, and that biting and somehow wise wit.
Masterful. Claudia Hampton, a brilliant and unorthodox historian, looks back over her life and loves as she dies. I was a touch skeptical at first, by the jumpy perspectives and narration, but Penelope Lively's unerring control won me over. I was thoroughly charmed by this short, beautiful novel and didn't want it to end. Easily the best Booker Prize winner I've read.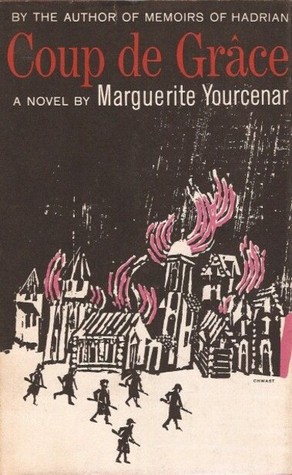 I typically find war novels extremely dull, but in Marguerite Yourcenar's capable hands, not even a war novel can be tedious. (And, besides, Coup de Grâce is not really a battlefield narrative but rather psychological tension in the midst of wartime.) I think I might love Yourcenar; I don't think she can do anything wrong. This is the third novel of hers that I've read, and all three have been flawless.
Erick, the narrator, is a young, emotionally cold Prussian who becomes entangled with Sophie, a beautiful, serious, and tragic young woman. Sophie loves him despite his detached and even unkind nature, which gives the misogynistic Erick plenty to brood and philosophize about while the bombs are falling around them. And, oh, the ending! I won't say a word about it, but the fact that Yourcenar says this was based on a true story makes it all the more romantically tragic and perfect.
Honorable Mentions
The Death of Ivan Ilych, Leo Tolstoy
The Sweet Cheat Gone, Marcel Proust
Their Eyes Were Watching God, Zora Neale Hurston
Offshore, Penelope Fitzgerald
All the King's Men, Robert Penn Warren
2666, Roberto Bola

ño

Mrs. Stevens Hears the Mermaids Singing, May Sarton
Herzog, Saul Bellow
Mating, Norman Rush
The Charterhouse of Parma, Stendhal
Slaughterhouse-Five, Kurt Vonnegut
Austerlitz, W.G. Sebald
The Heart of the Matter, Graham Greene
Mislaid, Nell Zink
As We Are Now, May Sarton
Thousand Cranes, Yasunari Kawabata
Victory over Japan, Ellen Gilchrist
Mr. Palomar, Italo Calvino
We Need to Talk about Kevin, Lionel Shriver
The Queen of Spades and Other Stories, Alexander Pushkin

The Collected Stories of Jean Stafford

The Sellout, Paul Beatty
The Life and Times of Michael K, J.M. Coetzee
Bastard out of Carolina, Dorothy Allison
What fiction did you read and enjoy in 2015?