And here, at last, is the best fiction I read in 2016.
1. The Passion According to G.H., Clarice Lispector
Utterly wild, incantatory, and absorbing. I was wholly drawn into G.H.'s vision, even when I didn't totally understand it. The translation is beautiful and smooth, even with Clarice Lispector's unusual grammar and style. There is something eerie and almost superhuman about her prose. It is a sincerely engrossing and magical novel about a rich sculptor who finds a cockroach on the floor and is thus ushered into a world-altering vision of herself, time, and the divine. Color me a Lispector fan. I'm desperately eager to read everything else. (First up in 2017: The Collected Stories of Clarice Lispector.)

2. The Days of Abandonment, Elena Ferrante
Now that I have read all of Elena Ferrante's published fiction, I'll declare this as the darkest and most frightening novel among them (and yet the ending, ah, it is nice). Sheesh. She plumbs the depths of domestic discord and a jilted wife's unraveling in this slim and horrific narrative. Hell hath no fury like a woman scorned and all that jazz: Ferrante really knows how to turn up the volume on that platitude. The banal terror of The Days of Abandonment brought to mind David Lynch, in Ferrante's creation of a world that is so scary precisely because it is still tied to the mundane. It's an everyday life full of domestic horror. (And, naturally, as the mother of two German shepherds, I was very drawn into and grieved by her extensive portrait of Otto, the shepherd who belongs to the narrator. I did read in Frantumaglia that Ferrante herself has had German shepherds, and I feel extremely gratified to know this.)
3. Blow-Up and Other Stories, Julio Cortázar
I felt totally unhinged by these breathtaking, wild little stories. Not sure why I waited so long to read Julio Cortázar. The language is so beautiful (immense credit to the translator, Paul Blackburn), and the stories themselves are so strangely suspenseful and lush and lyrical all at once; I have no idea how he does it. There is a playful absurdity that ripples through the shorter stories, which were my favorite, and Cortázar shows himself to be a stylist with remarkable versatility (he made me think of George Saunders, whose stories I love for the same reason, in that they all seem as if they could have been written by 10 very different writers). Really tremendous collection with a lot of staying power.
4. The Friendly Persuasion, Jessamyn West
Terribly beautiful and sweet without ever dipping into sanctimony or saccharine stereotypes. Every chapter, or story, was so enchanting and gorgeously written. I was so startled by the excellence of West's style, especially because I have never really heard others praise it before, and I found it so deeply praiseworthy. Eliza and Jess are complex, lovable, and generous characters, and I look forward to sharing this book with others, as it was shared with me. The Friendly Persuasion is simple and good enough to delight children and yet deep enough to please even the most high-minded adult.
5. The Wallcreeper, Nell Zink
What delights the strange, variegated brilliance of Nell Zink has to offer! I think she's a genius, and I delight in the fact that so many other people don't. I chewed through this tiny, bizarre novel in about a day, and I felt disappointed when it ended. I can grasp how The Wallcreeper could be frustrating, if a traditional narrative and likable, formally relatable characters are important to you. But Zink forces you into a separate realm, where people seem to be somehow more and less human all at once.
As her correspondent (and long-distance patron) Jonathan Franzen says, "Her work insistently raises the possibility that the world is larger and stranger than the world you think you know." I can't decide if I liked this or Mislaid more; they both contain manifold pleasures. Zink writes in a way that does not give a fig for my opinion or yours. As she reminds us in her choice of an epigraph for this novel: "I kill where I please because it is all mine" (Ted Hughes). She won't let you forget it.
6. The Leopard, Giuseppe Tomasi di Lampedusa
A meandering family story overlaid with lush prose is perpetually my favorite thing. Sometimes the threads fall apart too soon; sometimes Tomasi, the last Prince of Lampedusa, does not know when to rein himself in, but the overabundance of the novel is absolutely one of its primary pleasures.
7. Fates and Furies, Lauren Groff
People seem to either love or hate this novel. "Love" may be a strong word for it on my end, but I was entirely seduced by the prose. I have strong memories of the immersive reading experience it gave me; I tore through it in January. I remember reading it in huge gulps, perched on the edge of a bed. Lauren Groff writes in this dreamy, fragmented way that makes me swoon (I am such a sucker for stylists), and Lotto and Mathilde are wholly enthralling. Mathilde, in particular, is a creepy gem of a character. Very absorbing, even if it might not entirely hold together.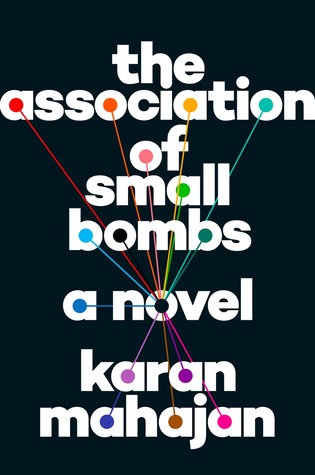 8. The Association of Small Bombs, Karan Mahajan
This is an active novel. Karan Mahajan provides a lively portrait of young men and their families in Delhi and the aftermath of a bombing in a market. It is fast paced and yet sensitive and compelling on an emotional level, which is always a hard balance to strike. And yet Mahajan does it effortlessly.
9. My Struggle, Book 4, Karl Ove Knausgaard
I read this during our summer in London and have memories of reading it alone, at our circular dining table, during the week Guion was on tour in Germany. It is an account of the 18-year-old Karl Ove, who haphazardly teaches at a little school in a fishing village in northern Norway, becomes a semi-functional alcoholic, and pines desperately (mostly unsuccessfully, despite his pretty face) after girls. Again, I'm not sure why I find these novels so compulsively readable, because they are fundamentally dull on the surface, but Knausgaard is brilliant and fresh and I can't look away. I liked this better than Book 3 but less than Books 1 and 2.
10. Troubling Love, Elena Ferrante
Can never get enough Ferrante. The main character, Delia, investigates her mother's sudden, somewhat lurid death and uncovers, uncomfortably, her mother's hidden life and loves. This is Ferrante's first novel, and it sets the stage, thematically, for all of the issues she later explores with such depth and acuity in the Neapolitan novels: domestic violence, the vulgarities of Naples, troubled maternal relationships, and the vacillating but intense connections between family and friends. It is less captivating than the novels about Elena and Lila, but it is still excellent and strong and different and deserving to be read.
Editor's Note: I have also made a strategic decision to no longer list or rank books I've re-read in the past year. So even though I re-read Mrs. Dalloway (for the fifth time, apparently), Swann's Way, and Persuasion in 2016, they do not appear in the list. Even though they belong in the top 10 of every conceivable list.
Honorable Mentions
The Way We Live Now, Anthony Trollope
Love in the Time of Cholera, Gabriel Garcia Marquez
Loving, Henry Green
What We Talk about When We Talk about Love, Raymond Carver
Pond, Claire-Louise Bennett
The Name of the Rose, Umberto Eco
Hunger, Knut Hamsun
Some Prefer Nettles, Junichiro Tanizaki
Bleak House, Charles Dickens
The End of the Story, Lydia Davis
The Seagull, Anton Chekhov
CivilWarLand in Bad Decline, George Saunders
Notable American Women, Ben Marcus
Collected Stories, Katherine Anne Porter
The Course of Love, Alain de Botton
Summer, Edith Wharton
Previously: Best poetry I read in 2016 / Best nonfiction I read in 2016