I read less in the spring than in other seasons, mainly because I start obsessively monitoring my garden, but I still got through an enjoyable assortment this year. Here are my favorites from the past few months.
01. Opened Ground, Seamus Heaney
Can anyone, really, compare with Seamus Heaney? I think not. You can drink of him all day and never have your fill.
02. The Big Rock Candy Mountain, Wallace Stegner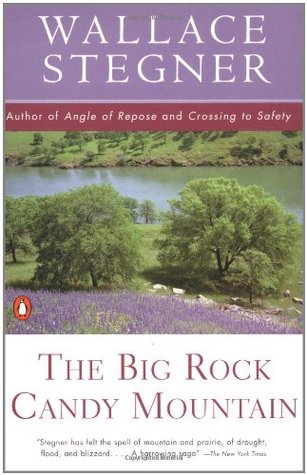 "A man is not a static organism to be taken apart and analyzed and classified. A man is movement, motion, a continuum. There is no beginning to him. He runs through his ancestors, and the only beginning is the primal beginning of the single cell in the slime. The proper study of mankind is man, but man is an endless curve on the eternal graph paper, and who can see the whole curve?"
A large, moving, and human novel about a star-crossed American family around the turn of the century who just can't seem to catch a break. Wallace Stegner understands so much about the American spirit, in both its ambition and lightness—and its violence and darkness. His characters are an absolute joy and as memorable as real people. I enjoy him so much that I wonder if I should feel guilty about it.
03. Lincoln in the Bardo, George Saunders
Moving and strange and humorous all at once. I was initially surprised at how experimental it was but found myself really enjoying the unusual form as I kept going. It reads extremely fast, too. George Saunders is able to capture this deep sense of pathos throughout, even amid rather ridiculous flights of style/character.
04. In a Different Key: The Story of Autism, John Donvan and Caryn Zucker
Totally riveting. I flew through this massive book, which is a history of how autism was given a name and how that name — and the development of the autism spectrum and what that diagnosis entails — has shifted, and continues to shift, from the 1940s to the present.
That's the key takeaway: None of this is finished. This is not a definitive history. The authors betray their broadcast journalism roots sometimes (ending almost every chapter's final paragraph with a predictable "hook"), but it worked on me; I read hungrily from chapter to chapter.
I'll admit that I harbored a good deal of fear about autism (and receiving that diagnosis for a potential child), but a lot of that misinformation I was carrying was been addressed by the thoroughness of this book. And while there is still a good deal of fear and grief that confronts every parent whose child receives this diagnosis, there is so much more support and hope now than there ever has been — thanks, largely, to tenacious mothers and the scientists they persuaded to get involved.
05. The Handmaid's Tale, Margaret Atwood
I first read this novel when I was a teen, years ago, and I liked it so much more upon a second reading this time around, about a year away from 30. I re-read it in preparation for a book club in which all of my fellow members bailed, citing there was "too much sex" in it. Cue eye roll.
The Handmaid's Tale shocks me less than it did then, and that's perhaps the depressing element. But I'd forgotten how enjoyable and incisive Margaret Atwood's prose is. It is somehow skillfully plain but never boring; she embellishes at all the right moments.
In the tradition of a slave narrative, Offred is a complicated and compassionate narrator, and I enjoyed listening to her.
Could this happen now, in the United States, or even in the future? Doubt it. (Atwood can seem a little high-strung to think that this is where we could be in the 1990s, but it makes sense that this is what she was thinking about, because she wrote the novel while living in Berlin in the early 1980s.)
But some aspects of Gilead don't seem that far off. Obsession with women's bodies and controlling reproduction has always been a hallmark of any fundamentalist religion. There are whispers of Gilead-like policy even now.
(No, I haven't seen the Hulu series yet; yes, I'd like to.)
06. Go Tell It on the Mountain, James Baldwin
All the darkness and heaviness of a Christianity built on a foundation of guilt and shame. God bless James Baldwin and all he went through to bring us this tidy, transformational masterpiece of American fiction.
Read for the second time, again for book club, but this time the members actually showed up, and we had a lively discussion.
07. Bye-and-Bye: Selected Late Poems, Charles Wright
"There is so much that clings to us, and wants to keep warm."
Breathtaking, marvelous poems. I have always enjoyed Charles Wright, and this was a far-ranging and enjoyable collection of his later work. It is a pleasure to merely live in the same town as Wright, to know that a poet of this matchless caliber lives in my county.
08. The Sportswriter, Richard Ford
"I have become more cynical than old Iago, since there is no cynicism like lifelong self-love and the tunnel vision in which you yourself are all that's visible at the tunnel's end."
I admit it freely: I'm a total sucker for Cheeveresque novels about mopey white men in the suburbs.
09. Is There No Place on Earth for Me? Susan Sheehan
They just don't make journalists like they used to.
Marvelously researched. Susan Sheehan presents a gripping and heart-rending portrayal of one woman's nearly lifelong struggle with schizophrenia.
10. Femininity, Susan Brownmiller
"Women are all female impersonators to some degree."
For women readers, this book doesn't contain much new information, but it's a thought-provoking collection of all the ways that femininity is impressed and enforced upon us.
I appreciated the moments when Susan Brownmiller divulged that she too, despite being a pants-only, makeup-less feminist, is sucked into the femininity vortex (obsessing about her hair, modulating her posture to appear smaller or more deferential, etc.); it makes you feel less alone, and just as confused as every other thinking women about what to perform and what to eschew.
The book left me feeling the same as I always do when I contemplate the masculine-feminine binary, which is, simply: frustrated. Useful to have a collection of all of these cultural rules in one place, though, I suppose, if only to wonder about their origin and how to rebel against them.
Honorable Mentions
The Hidden Life of Trees, Peter Wohlleben
Exit West, Mohsin Hamid
Simple Matters, Erin Boyle
The Dragons of Eden, Carl Sagan
What have you read and enjoyed recently?