I feel like I covered a lot of ideological ground with my nonfiction diet in 2017, but maybe that's not true; maybe I read the same kind of thing year after year after year. In any event, here are my favorite nonfiction books from 2017.
1: Simone Weil: An Anthology, ed. Siân Miles
Perhaps embarrassingly, this was my first encounter with Simone Weil, French philosopher, Christian mystic, and social activist, a stylish genius who died at the age of 34. This anthology was the perfect introduction to her radical, refreshing mind. Weil's observations of her own time (as a French Jew in the heat of World War II) strike me as startlingly relevant to our civic life today. It's energizing and challenging in all the right ways, and I am looking forward to reading her more deeply. My in-laws gave me Gravity and Grace, her first published work, for Christmas, and it's at the top of my list to tackle in 2018. (Amazon)
2: Evicted: Poverty and Profit in the American City, Matthew Desmond
The deserving winner of the 2017 Pulitzer Prize for nonfiction, Evicted is a serious, moving accomplishment of ethnography and inquiry into evictions, one of the leading causes of poverty and homelessness. Matthew Desmond's work spans years and provides an intimate portrait of the men, women, and children struggling to keep their homes in Milwaukee. It is heartbreaking and goading all at once; I read it quickly, like a novel, over the course of a few days. Highly recommended. (Amazon)
3: Coming into the Country, John McPhee
I'll read John McPhee on any subject. This book, an adventure through Alaska in the 1970s, is a fantastic perspective of the land, its history and politics, and the deeply curious and strong people who inhabit it. (Amazon)
4: Glass, Irony and God, Anne Carson
If I read Anne Carson in any given year, she'll be on my top 10 list. This is just how it is. A brilliant mix of poetry, essays, and casual philosophy, this book held my breathless attention from start to finish. I think "The Glass Essay" is a masterpiece, even though the certified poets in my life (husband, Celeste) were less than impressed. I will not yield: I'm a Carson fangirl till my dying day. (Amazon)
5: In a Different Key: The Story of Autism, John Donvan and Caren Zucker
Totally riveting. I flew through this massive book, which is a history of how autism was given a name and how that name—and the development of the autism spectrum and what that diagnosis entails—has shifted, and continues to shift, from the 1940s to the present. That's the key takeaway: None of this is finished. This is not a definitive history. The authors betray their broadcast journalism roots sometimes (ending almost every chapter's final paragraph with a predictable "hook"), but it worked on me; I read hungrily from chapter to chapter.
While there is still a good deal of fear and grief that confronts every parent whose child receives this diagnosis, there is so much more support and hope now than there ever has been—thanks, largely, to tenacious mothers and the scientists they persuaded to get involved. (Amazon)
6: Chekhov, Henri Troyat
I have loved Anton Chekhov for years, and this biography made me love him even more. His unwavering devotion to showing life as it is, not as we want it to seem, and his sincerely good nature, continue to endear me to him and to his body of work. I am not typically one for biographies, but this one was completely delightful: Henri Troyat writes beautifully and clearly and presents a riveting portrait of the literary genius. I read it quickly, eagerly. (Amazon)
7: Artful Sentences: Syntax as Style, Virginia Tufte
My husband, who is a total gem, gave me this book for Christmas 2016, because Lydia Davis told him to. Davis, Queen of My Heart, was a visiting scholar at the university in our town, and gave a series of lectures, all of which I was unable to attend, because of work duties, and I was devastated. My husband went to all but one of them and took notes for me. When he gave me this book, which I had not previously heard of, he said that in Davis's talk on writing, she referenced Artful Sentences as a favorite resource. She said she liked to turn to it for examples of the marvelous variety of sentences that could be created and find inspiration therein.
And inspiration abounds! Virginia Tufte is like an industrious scientist of English syntax. She shares more than 1,000 sentences as examples of all the types of good and beautiful ways that one can fashion language, and she divides the book logically by grammatical types. It is a delight and a refreshing study of the gorgeous variety of English. It now sits on my desk at work, and I hope to return to it and read it every year. (Amazon)
8: A Supposedly Fun Thing I'll Never Do Again, David Foster Wallace
A complete delight, in only the way that DFW can be. Sharp, memorable, brilliant, funny essays. It is a pleasure to return to him after taking a few years off; I think he's the kind of writer whose impact is preserved and amplified if I don't binge read him. (Amazon)
9: Is There No Place on Earth for Me? Susan Sheehan
They don't make nonfiction like they used to. Marvelously researched and riveting from start to finish. Susan Sheehan presents a gripping and heart-rending portrayal of one woman's nearly lifelong struggle with schizophrenia. (Amazon)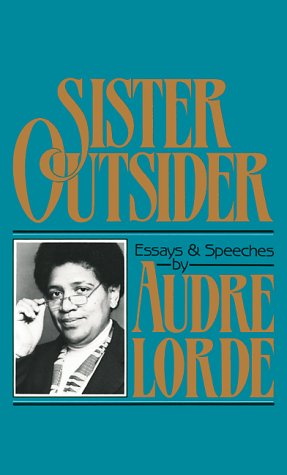 10: Sister Outsider, Audre Lorde
Powerful and extremely relevant. It was a galvanizing pleasure to read her work back to back; I had only ever read snippets before. And of course I am not the first or the last to say that this book, and Audre Lorde's work in general, is an essential component of the American feminist canon. I was also reading this while reading Adrienne Rich's collected poems, so I found the interview between them, which is included here, particularly fascinating. We white feminists have a lot to learn from our foremothers of color. It's a good time to shut up and listen. (Amazon)
Honorable mentions
Green Thoughts: A Writer in the Garden, Eleanor Perényi
The Humane Gardener, Nancy Lawson
Hiroshima, John Hersey
The Evangelicals: The Struggle to Shape America, Frances FitzGerald
Citizen: An American Lyric, Claudia Rankine
Femininity, Susan Brownmiller
The Hidden Life of Trees, Peter Wohlleben
Little Labors, Rivka Galchen
Daring Greatly, Brené Brown
Take This Bread: A Radical Conversion, Sara Miles
Crapalachia: A Biography of Place, Scott McClanahan
The Nearest Thing to Life, James Wood
The One-Straw Revolution, Masanobu Fukuoka
Previously: Best poetry I read in 2017. Up next: Best fiction I read in 2017.
For more from this yearly series, see Best Books.