As far as fiction is concerned, 2017 was a year of returning to authors I now consider to be old favorites (or, at the very least, I was refreshing my opinions of those previously encountered). I read slowly and sometimes fitfully this year, but I was especially grateful for these top 10 highlights from my year in fiction.
1: The Rings of Saturn, W.G. Sebald
Sleeper hit of 2017! I'm surprised by myself, picking this as my favorite, but there it stands. I read Austerlitz some years back and found it inscrutable and frustrating, but this brilliant, dreamy novel hit me in all the right ways late in the year. It is an exquisite pleasure to wander around history and the English countryside with W.G. Sebald. I feel grateful, to have encountered a mind like his. The Rings of Saturn is so fragmented and yet it all holds together in this ineffable way. The perfect novel for an unusual year. (Amazon)
2: The Complete Stories, Clarice Lispector
My obsession with the weird, beautiful, mind-bending prose of Clarice Lispector knows no rational bounds. Her marvelous strangeness is a never-ending delight. I read these stories with deliberate slowness, taking a full month, savoring and pondering each one. I loved the common threads (a simple object or a stray glance hurtling a character into existential distress; chickens, dogs, and horses, but never cats; a woman ready to do something dramatic with her life and then she just goes home). I found my actual decision-making patterns being shifted by her own incantatory logic. In all the excruciating darkness of the world, at least we still have these stories; at least we still have Lispector. (Amazon)
3: The Visiting Privilege, Joy Williams
No, I didn't love it just because it has a German shepherd on the cover. Marvelously strange, gorgeously written. I am smitten with Joy Williams. This is a dense and delightful collection of her stories, old and new, and it contains manifold and unexpected pleasures. Her characters are at once familiar and foreign, transforming between sentences, subverting human behavioral conventions. And, of course, I loved the prevalence of dogs throughout. Color me a mega-fan. (Amazon)
4: Lincoln in the Bardo, George Saunders
Moving and strange and humorous all at once. I was initially surprised at how experimental it was but found myself really enjoying the unusual form as I kept going. It reads extremely fast, too. Saunders seems to be able to capture this deep sense of pathos throughout, even amid rather ridiculous flights of style/character. (Amazon)
5: My Struggle, Book 5, Karl Ove Knausgaard
Perpetually riveting, in all the same mysterious ways that the prior installments have been. This might be my second-favorite volume of My Struggle, after Book 1. They're always in my top 10, in whatever year I encounter a volume. His plain prose has a mystically addictive property. I cannot describe it. (Amazon)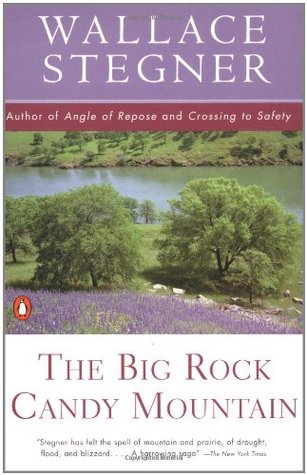 6: The Big Rock Candy Mountain, Wallace Stegner
A large, moving, and human novel about a star-crossed American family around the turn of the century who just can't seem to catch a break. Wallace Stegner understands so much about the American spirit, in both its ambition and lightness—and its violence and darkness. His characters are an absolute joy and as memorable as real people. I enjoy him so much that I wonder if I should feel guilty about it. (Amazon)
7: The Sportswriter, Richard Ford
Fine, I admit it freely: I'm a total sucker for Cheeveresque novels about mopey white men in the suburbs. (Amazon)
8: Giovanni's Room, James Baldwin
A heartbreaking and beautifully told little novel of a fated couple in Paris. Baldwin has such range and impressive economy of language. I am grateful to be reminded of his gifts with each encounter. (Amazon)
9: The Question of Bruno, Aleksandar Hemon
Marvelous, inventive prose; dark stories with a comedic edge. It's almost impossible to believe that he moved to Chicago with a marginal grasp of English and then, a few years later, published a work with this much style and sophistication in his newly learned language. (Amazon)
10: The Afterlives, Thomas Pierce
Thomas Pierce brings all the components of a good story to the table: humor, empathy, and ingenuity. I lapped up this creative and touching novel, flying through it as I was flying home over the Pacific Ocean. Jim and Annie build a life together and wander through a future that does not feel too far away from us now. The future of American fiction, honestly, feels brighter to me, knowing that it is buoyed by writers like Pierce. (Amazon)
Honorable mentions
Previously: Best poetry I read in 2017 and best nonfiction I read in 2017. All Best Books lists are here.