2018 was a banner year in nonfiction for me. I read so much great stuff that it was difficult to choose. Here are my top 10 favorites from the year, along with a hefty list of honorable mentions (which are all also worthy of your time and attention).
1: The Gene: An Intimate History, Siddhartha Mukherjee
Siddhartha Mukherjee is one of those infuriating people who happens to be at the top of his (non-literary) professional field and a brilliant writer. I've loved everything he's published (both his other books and his essays, which often appear in the New Yorker), and I devoured this gorgeously written and riveting history of genetics. It's written for the layperson but constructed with all the force of his analytical, medical mind. I read it ravenously on a plane, flying from here to Minneapolis, and deeply resented anyone trying to speak to me as I finished it. (Amazon)
2: Plainwater: Essays and Poems, Anne Carson
Anne Carson works on me like a drug. I'm always in the mood for her, and I can never get enough. Her free-wheeling mind and her absolute, inviolable independence as a writer and thinker are addictive.
This, like much of her work, is a multifaceted collection, featuring a long poem, short "talks," travel diaries with various lovers, and meditations, among other things. It does not disappoint. (Amazon)
3: Known and Strange Things, Teju Cole
I might be a bit in love with Teju Cole now. (It's OK; Guion knows.) I feel like a fangirl, like I might drive an unreasonable distance just to hear him speak for half an hour?
This is a beautiful, engaging collection of essays, spanning so many subjects—and so many that I am already delighted by: W.G. Sebald, Virginia Woolf, the aforementioned Anne Carson (!), etc. His style and captivating logic worked on me in a powerful way. This is a collection I regret not owning, as I would press it urgently into the hands of everyone I met. (Amazon)
4: Gravity and Grace, Simone Weil
Although I had already encountered most of these essays in an anthology of Weil that I read last year, it was a renewed pleasure to read this free, unfiltered version of her earliest work. Her mind is powerful; you can fall into it like a dark pool. And her way of thinking is one that we need now more than ever. (Amazon)
5: The Rituals of Dinner, Margaret Visser
This book randomly called to me at the library book sale this year, and I'm so glad that it did. I knew nothing about it, but I was intrigued by the title.
Margaret Visser, a professor at the University of Toronto, provides a delightful tour through the history of table manners, from ancient Greece to 20th-century North America. I especially loved her meaningful reflections on culture: how we form it and how it forms us. Her style is meandering, and she seems to find it difficult to focus on one topic, but I liked her vast, wandering approach, and it seems fitting for the subject matter. Recommended for casual history buffs and students of human culture. (Amazon)
6: Second Nature: A Gardener's Education, Michael Pollan
Before he became famous for his real-food polemics, Michael Pollan was puttering around in his New England garden.
This book, published in 1993, is a pure delight and total inspiration to a gardener of my ilk (invested in a garden that balances itself with nature, values native plants, eschews foolish hybrids, and strives to eradicate the lawn in all its iterations). His presentation of a gardener's ethics was also deeply motivating. I hope to return to it again and again in my gardening life, and I recommend it heartily to anyone who enjoys nurturing plants and a small plot of land. (Amazon)
7: The Future Is History: How Totalitarianism Reclaimed Russia, Masha Gessen
Utterly gripping. Anyone who naively thinks that history is progressive, that we're all moving forward in an enlightened direction, should spend a little time with this book.
Masha Gessen writes with all the force and the authority of an excellent researcher, journalist, and Russian native. The book is a clear, salient introduction to Russia's troubled recent history (1980-present), and it sticks with you after you put it down. (Amazon)

8: My Promised Land: The Triumph and Tragedy of Israel, Ari Shavit
In a series of high-profile interviews, interspersed with personal and national history, Ari Shavit tells a story of Israel and all of its victories and failures, challenges and complexities.
It is perhaps impossible to find an objective source on what Israel was and what it has become, but this excellent book comes close. Shavit is uniquely positioned, as the great-grandson of one of the first colonizing Zionists, as a former detention camp guard, as an anti-occupation journalist, to handle this narrative. Perhaps this is the only way to learn about such a vast, seemingly unsolvable conflict: stories handed down from one person to another, arranged loosely around a long, troubled timeline of the Jewish people. (Amazon)
9: Daybook: The Journal of an Artist, Anne Truitt
American sculptor Anne Truitt keeps a loose-limbed diary, including thoughts about her work, inspiration, motherhood, ambition and provision. The result is a readable, motivating record of a driven artist. She was once a nurse and trained as a creative writer, and both of her capacities for generosity and creativity shine through in this lyrical, finely crafted journal. (Amazon)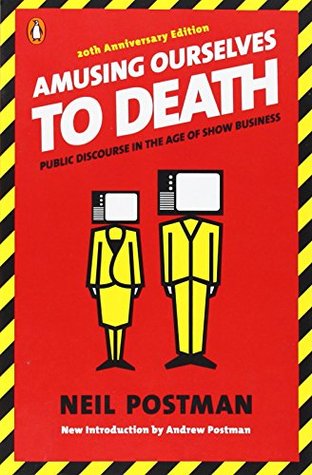 10: Amusing Ourselves to Death, Neil Postman
More than 30 years ago, before we could even conceive of a personal internet or carrying powerful computers around in our pockets, Neil Postman made a chilling prediction the state of American discourse and politics in 2018. Donald Trump is so purely a product and consequence of the Age of Television. It is a gripping and somehow affirming read, backing up all that I have felt this year about wanting to get away from TV, Twitter, Instagram, and the rest of it. Although it's "old," it reads quickly and is well worth your time. What remains to be seen is whether we can recover from our addiction to entertainment. (Amazon)
Honorable mentions
Autumn, Karl Ove Knausgaard
Spring, Karl Ove Knausgaard
Agua Viva, Clarice Lispector
How to Write an Autobiographical  Novel, Alexander Chee
Thinking, Fast and Slow, Daniel Kahneman
Reader, Come Home, Maryanne Wolf
Boys Adrift, Leonard Sax
The Consolations of Philosophy, Alain de Botton
At Large and at Small, Anne Fadiman
Operating Instructions, Anne Lamott
Men in the Off Hours, Anne Carson
Letters to a Young Novelist, Mario Vargas Llosa
Calypso, David Sedaris
Come as You Are, Emily Nagoski
The Smartest Kids in the World, Amanda Ripley
And Now We Have Everything, Meaghan O'Connell
Previously: The best poetry I read in 2018. Up next: The best fiction I read in 2018.